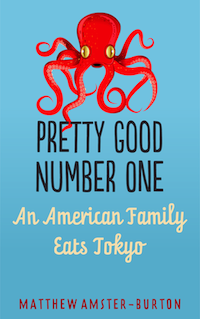 Buy now: Amazon (ebook or paperback)
Buy now: iBooks or Kobo
Buy now: Scribd (PDF)
Also available at Ada's Books, University Bookstore, and Elliott Bay Book Company in Seattle and, via special order, from your local bookstore.
"The layers of the city, its extraordinary food pleasures, its quirkinesses, emerge as the author and his family spend an intense month living in Tokyo and exploring widely…Warning: this book will make you hungry. You'll yearn, as I do, to catch the next plane to Tokyo, so you can get eating."
—Naomi Duguid, writer and traveler; her most recent book is BURMA: Rivers of Flavor (Artisan 2012)
"This is the book I've been hoping Matthew would write: smart, opinionated, and wickedly funny, crammed with in-the-know tips and observations… I love this book."
—Molly Wizenberg, author of A Homemade Life and blogger, Orangette
Tokyo is the city of skyscrapers and bullet trains, high-tech toilets and souped-up vending machines.
Tokyo is the city where, every morning, your neighbors pin underwear to clotheslines and the chef down the street nods hello as he strikes the head off a wriggling eel.
In Pretty Good Number One: An American Family Eats Tokyo, a Seattle family finds out what it's really like to live and eat in this most exciting and misunderstood of places. Traveling to the world's biggest city to live in a tiny apartment and ride overcrowded trains may not sound like your idea of a relaxing vacation.
But Tokyo, it turns out, is a city to fall in love with…
More praise
"Pretty Good Number One will put a smile on your face quicker than you can say 'Arigato!'… Perfectly sums up all of the reasons why I myself fell in love with the country, and why, once you have been, you will want to return again and again."
—Rachael Hutchings, LaFujiMama.com
"A must-read for anyone traveling to Tokyo or dreaming of that future trip."
—Yukari Sakamoto, author of Food Sake Tokyo